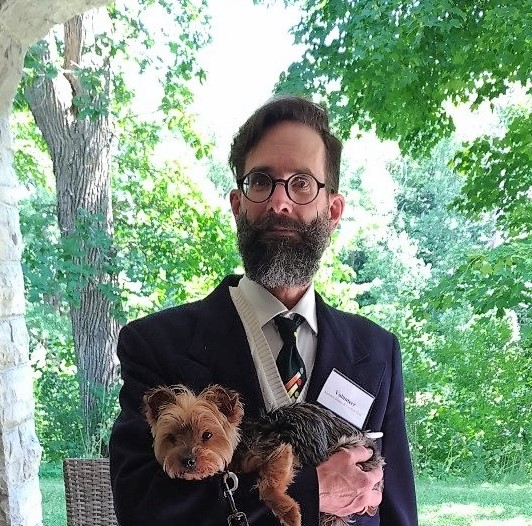 (Image with Permission:  Edgar Tumak/Robertson family) Paul is remembered with equal praise and commendation for his contributions to the heritage sector, not only in Kingston but Ontario as whole. Paul spent his career working towards creating a more diverse and inclusive sector. Paul was particularly proud of his work with the Kingston and Area Indigenous leaders guiding the City of Kingston - Cultural Services towards Truth and Reconciliation efforts. Paul was also an advocate for the 2S LGBTQIA+ community in museums across Ontario. Paul contributed to many heritage organizations, in particular the Ontario Museum Association of which he served as President from 2019 to 2021.  KAM held a special place in his heart as he helped it grow and thrive into the organization it is today such as through the City of Kingston Heritage Fund.  Paul's unfailing dedication and vision for cultural heritage, and his connections to friends and colleagues, persisted until his passing from cancer.  Three weeks before his death, he still made a presentation to Gananoque Town Council encouraging their support for the 1000 Islands History Museum, and partook in meetings with the Museum of Health Care, OMA, and KAM. He will be missed by all those who had the privilege of knowing him, but his work and dedication will be a lasting legacy to our region.
A nominee for this award category exemplifies the following:
The ability to inspire productive action in oneself and others during times of creation, invention, uncertainty, ambiguity, and risk.
Demonstrates the ability to both think and influence others to create "new and better" ideas to move towards positive results.
Creative, collaborative, curious, courageous, resilient, and committed.