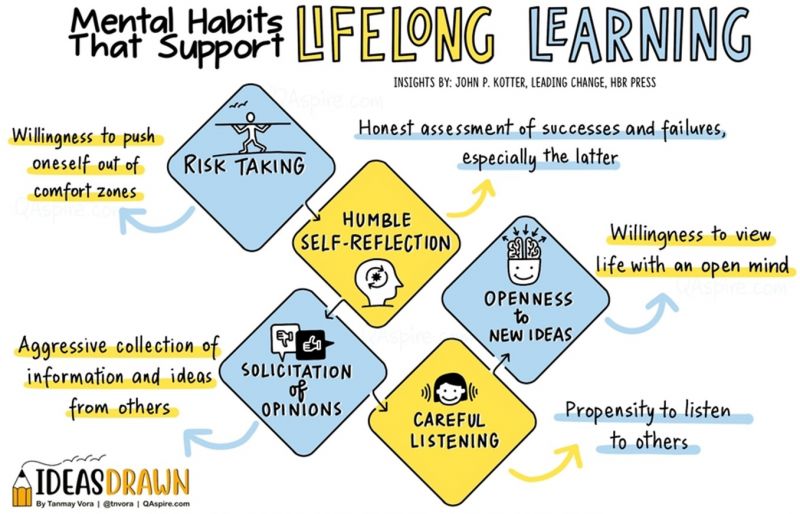 Personal learning can take many forms. 
Lifelong learning is a form of self-initated learning that focuses on personal development and personal fulfillment. 
Continuous Learning refers to learning new skills or knowledge for use in a formal context such as a specific role or job.
Online Learning Platforms @ the Kingston Frontenac Public Library
KFPL offers its patrons free access to a variety of online learning resources.  KAM members who live within the municpality of Kingston can access these platforms with their library card and pin numbers.  KAM members who do not live within the municipality of Kingston can access these resources through KAM's corporate Library account.  Please contact staff for details.
Lynda.com is a online learning platform that helps anyone learn business, software, technology and creative skills to achieve personal and professional goals. 
An interactice learning tool that uses sound and visual display to help immerse users in over 40 different languages and over 15 English as a Second Language (ESL) courses taught in the native language.
Online Learning Platform - Coursera
Coursera is a learning platform that offers a mixed model of paid and free access to courses, certificates and degrees online from universities and organizations from around the world.  Click the link below for a current list of free online courses. 
Accessibility for Ontarians with Disabilities Act (AODA) Training
The Accessibility for Ontarians with Disabilities Act (AODA) was enacted to expand the government's mission to offer full accessibility to all disabled Ontarians by 2025.
This program will cover basic information about AODA, comprehensive details about its standards, and the benefits they offer Ontarians.
Access the free, online training HERE.