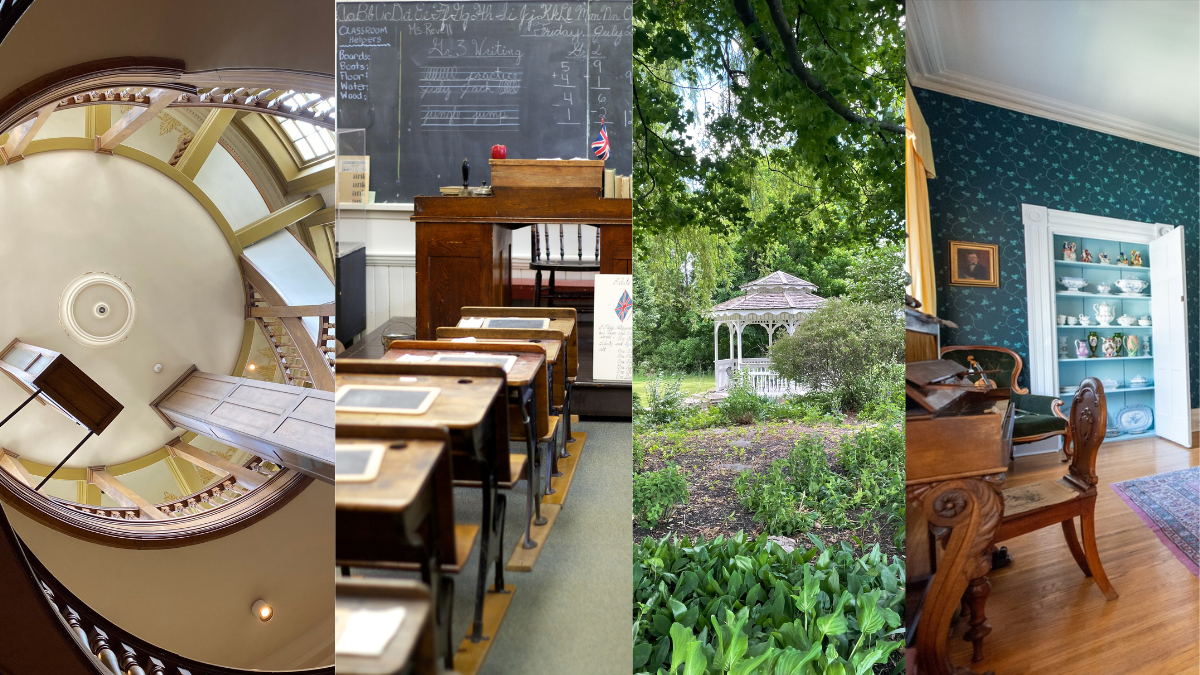 KAM is a not-for-profit professional network and collaborative resource hub supporting the Kingston and area cultural heritage sector - which is a vibrant mixture of galleries, libraries,, archives and historic sites, and museums - also known as GLAMs. The City of Kingston alone boasts over 24 museums & historic sites, as well as 3 art galleries - earning the moniker "Canada's museum capital."
The Kingston & Area Association of Museums, Art Galleries and Historic Sites, otherwise known as KAM, first emerged in 1980 as a grass-roots organization and formally incorporated as a non-profit in 2009. Our membership includes virtually all local cultural heritage sites within the municipality of Kingston, and continues to grow within neighboring counties and townships  - such as Loyalist, Lennox & Addington, Leeds & Grenville, and Frontenac. We also fulfill the role of regional museum network hub on behalf of the Ontario Museum Association, representing and connecting our members at both provincial and federal levels.   
We serve our members through four areas of activity: professional development, advocacy, public engagement and collaborative partnerships. We provide access to professional learning and training; collaborative programming initiatives, collaborative marketing programs; peer mentoring, operational support resources; and professional networks at the local, regional and provincial level. Our purpose is to model best practices and support our members in their work to engage audiences and communities in cultural heritage narratives and experiences.  
Our members range from federally owned sites with professional staff, to sites which are member-owned and volunteer operated. Their financial capacities are also wide-ranging. Some operate seasonally; others, year-round.  Many tell the stories and histories of our communities from local, regional and national perspectives. From its inception, KAM was driven by the ideal that by working collaboratively, despite differences in size, mandates and resources, cultural heritage sites and organizations could quite simply, do better together; improving practice and strengthening their connections, value and relevancy within and across communities.
As the professional network and resource hub within Kingston's cultural heritage landscape, KAM is committed to facilitating a resilient, innovative and responsive cultural heritage sector within the Kingston and area community.
Our Vision
At KAM, we believe in the power of cultural heritage to IGNITE IMAGINATION, DIALOGUE, and ENGAGEMENT, thereby enriching and supporting vibrant, diverse and healthy communities.   We envision a RESILIENT, INNOVATIVE and RESPONSIVE cultural heritage network integral to the identity, health and expression of the Kingston and area community.
Our Mission
KAM's mission is simple - to champion, nurture and amplify Kingston & area's cultural heritage landscape by fostering PROFESSIONAL DEVELOPMENT, ADVOCACY, PUBLIC ENGAGEMENT, and COLLABORATIVE PARTNERSHIPS.
Our Values
KAM has evolved over time, but the values that drive what we do and how we do remain the same:
EMBRACE COLLEGIALITY.   INSPIRE EXCELLENCE.
ENCOURAGE INNOVATION.  FACILITATE COLLABORATION.
EMBRACE DIVERSITY.  ACT WITH INTEGRITY.