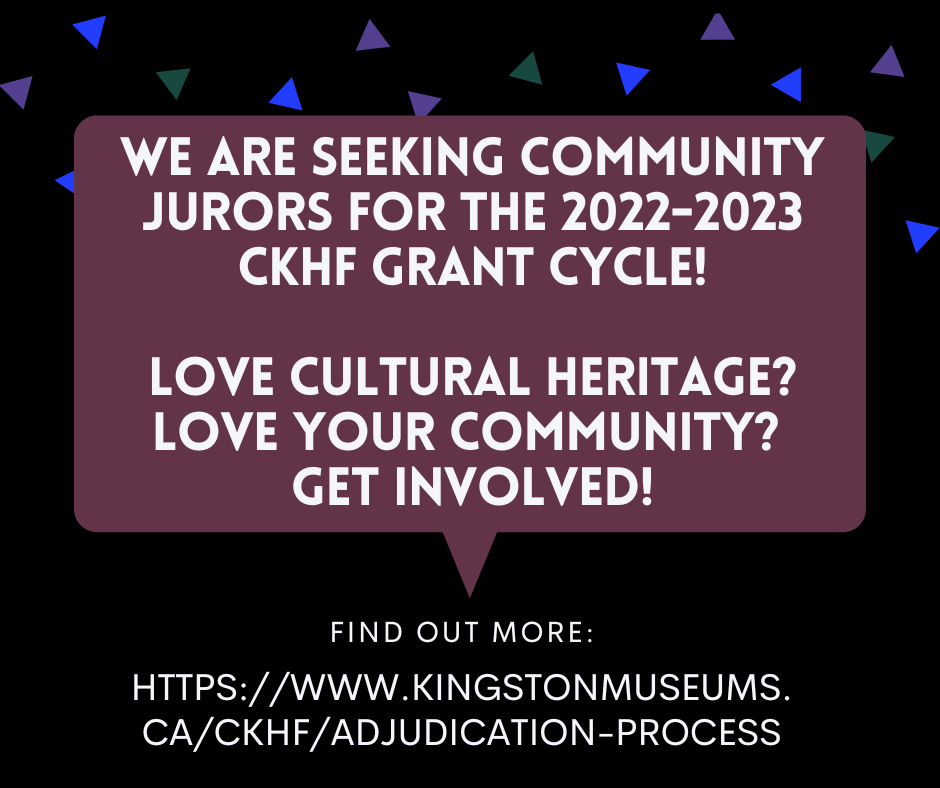 CKHF grant applications are adjudicated using a peer assessment process that engages stakeholders from across Kingston as jury members.  Jury members are typically representative of the cultural heritage sector, and are selected for their knowledge, awareness of both the City of Kingston context and the broader cultural heritage landscape.  CKHF jurors reflect Kingston's cultural diversity, including race, religion, sexual orientation and gender identity, people with disabilities, and Indigenous culture and heritage.  One of the City of Kingston's objectives for the CKHF is to "enhance Kingston's distinctive identity, enrich the cultural life of residents and attract newcomers, audiences and visitors from around the world." CKHF jurors value and participate in cultural groups, centers, and/or historical/archival sites across Kingston that contribute to Kingston's the distinct and diverse heritage and culture.
The CKHF Adjudication Chair oversees two separate adjudication committees – one for operating grants, the other for project grants.  Jury members may serve for a maximum of 3-consecutive years.  Please note, all CKHF jurors will be required to sign a confidentiality agreement and a conflict of interest disclosure statement.
All members of the committees will:
| | |
| --- | --- |
| i | be committed to excellence in cultural resource management; |
| ii | be committed to fiscal responsibility; |
| iii | be committed to the development of Kingston's diverse cultural resources; |
| iv | have an understanding, interest, and appreciation of cultural heritage in all forms; |
| v | bring vision, open-mindedness, and generosity of spirit to all deliberations; |
| vi | declare conflicts of interest; and |
| vii | provide fair and objective opinions. |
Complete the Expression of Interest form below, and submit to info@kingstonmuseums.ca by Monday August 26th 2022.