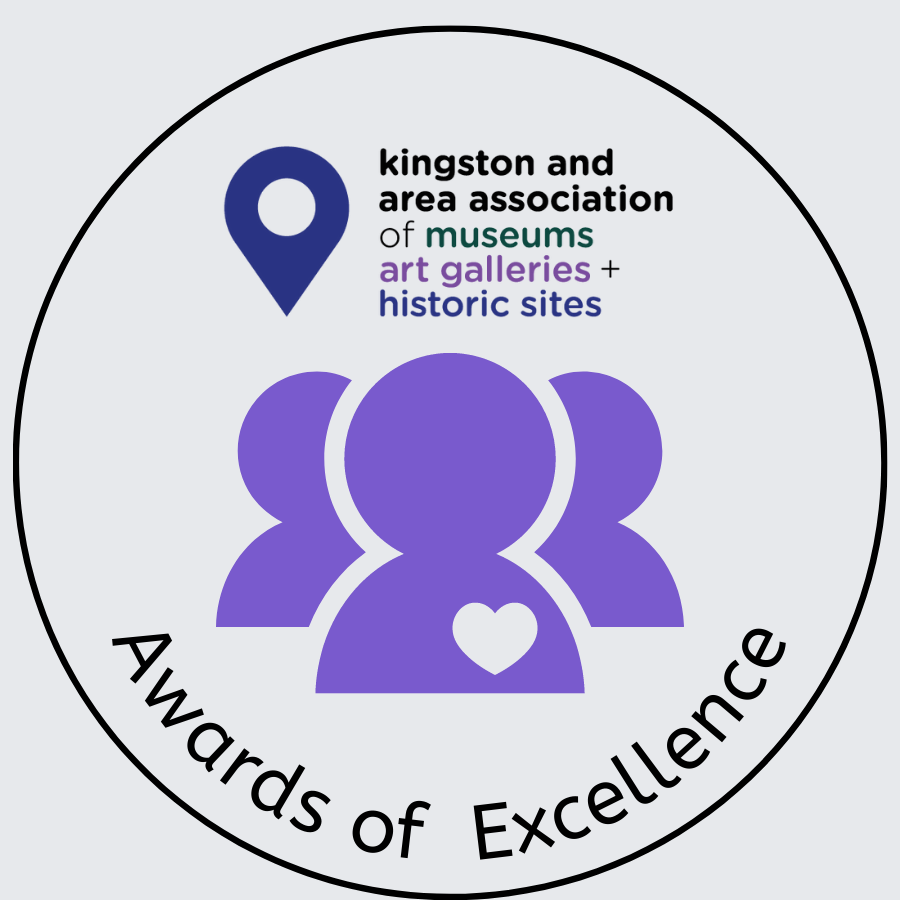 Since KAM's inaugural meeting in late 1979/early 1980, our members have fundamentally shaped the development of KAM, but also the Kingston and area's vibrant cultural heritage sector through their dedication, expertise, passion, and collegiality – exemplifying the principle that "we do better together."
The Kingston & Area cultural heritage sector is as diverse and vibrant as the individuals through whom it is animated.  Over the years, many community volunteers and cultural professionals have been a part of KAM, each leaving their distinctive imprint in KAM's story. 
Having celebrated our 40th anniversary in 2020, it is time to recognize the service, dedication, and expertise of our peers and colleagues, and celebrate their contributions that make KAM, this sector, and our communities great. 
The KAM Awards of Excellence is a peer recognition award program, where KAM members both nominate and vote for the nominees in each category.   There are five categories for the KAM Awards of Recognition: Governance; Practice & Programming; Leadership & Innovation; Mentorship; and Volunteerism.  Three of the award categories are named in recognition of a former KAM member who has notably influenced KAM and our regional cultural heritage sector in these ways for the better.
The KAM Awards of Excellence 2024 nomination cycle is now open. 
Members or organizations can nominate one individual per category.  Deadline for nominations is 26 January 2024.  Please send the completed nomination form to info@kingstonmuseums.ca with "Award Nominations 2024" in the subject line.  Recipients will be notified by 29 February 2024, with award presentations at the KAM AGM in March 2024.
Nomination Forms are available for download from the KAM website - linked below. 
These awards recognize individuals who exemplify the attributes and capacities captured through these award categories.
The nominees must be current or former KAM cultural heritage staff or volunteers from a recognized KAM membership organization or hold/have held an individual membership.
The nominator must be a member in good standing, either through a KAM member organization or hold their own individual membership. The nominator may only submit one nominee per category per nomination cycle.
Current KAM Board members are not eligible for nomination; neither are KAM staff.
Current KAM Board members and KAM staff can not provide letters of support for any nomination.
Once an individual has been awarded a KAM Award of Excellence (with the exception of Practice and Programming) they are not eligible for nomination in that same category for a period of 3 years.
It is understood and appreciated that the contributions of many of the individuals within Kingston's cultural sector are well-known.  However, the ultimate success of their nomination will be closely dependent on the quality and completeness of the nomination form, regardless of the nominee's reputation. 
Nominators must submit two letters of support for the nomination from other KAM members.
The nominator may submit two additional supplementary documents to support their nominee's application as appropriate. 
Adjudication:
After nominations are determined to be eligible and complete, the KAM Board will meet to adjudicate the submissions. Each nomination will be considered against the awards criteria and the nomination considered to best meet the criteria will be selected as the winner for the year.
Awards will be presented at the KAM AGM.