Where Resilience & Culture Meet: Course 1: Trauma Informed Certification Training
Date:
Tuesday, July 12, 2022 -

9:00am

to

12:00pm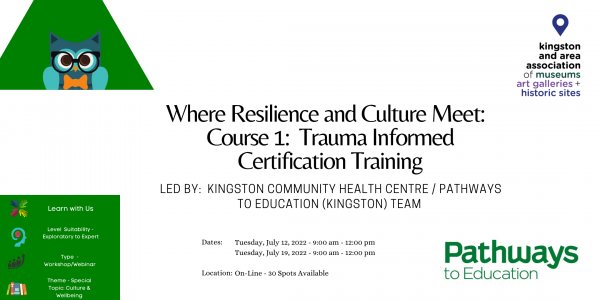 Working in cultural heritage spaces, we encounter and communicate with a variety of individuals and groups, with a variety of experiences and histories. To ensure these public spaces are welcoming and safe for all, it is critical that staff be empowered and trained to respond to all visitors and situations in ways that are appropriate, humane and productive. Trauma-informed relational approaches are an important tool to assist in this.
Led by the Pathways to Education (Kingston) Team, trauma informed training provides participants with the knowledge on how trauma impacts a person's life and ability to function in the world. Based on current scientific insights and research, this training shares how to implement this knowledge into strategies and practices to address the underlying needs of those you are working with or service - in this case, the communities (staff, volunteers and visitors) of the cultural sector.
This training will empower staff to use a trauma informed lens when interacting with community members that may not feel comfortable or may be having difficulty within the museum environment.
Building community begins with understanding the experiences of others. This knowledge will inform strategies of social prescription and how to create safe spaces using a trauma informed lens.
Participants will receive Trauma Informed Certification upon the completion of the training.
Please click on this REGISTRATION LINK to participate in this two part course.  As noted, you must participate in both sessions in order to receive your certificate.
Please join Kara, Roger, Garry and Stephanie, our facilitators from KCHC / Pathways to Education (Kingston).  We look forward to learning more and becoming part of the discussion.