Date
16 October, 2023 at 12:00pm - 20 November, 2023 at 12:45pm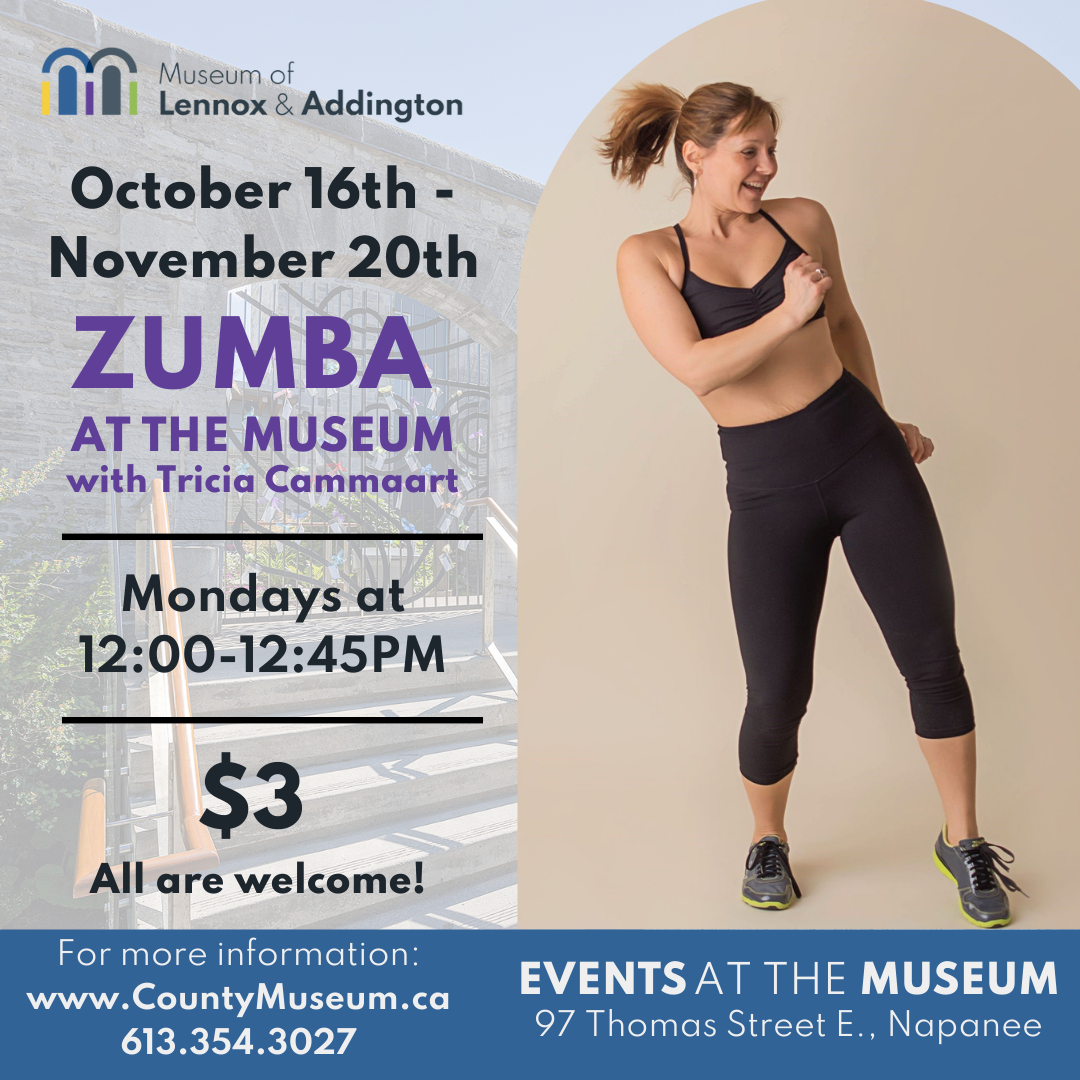 UPDATE (November 3, 2023 at 2PM): Zumba will not be taking place on Monday, November 13th as the Museum is closed for Remembrance Day long weekend. The last class will be on November 20th.
Back by popular demand! Get active during your lunch hour and join us for Zumba at the Museum of Lennox & Addington every Monday starting October 16th!
Come and join Zumba class, suitable for all ages, which offers a vibrant experience with exhilarating rhythms set to high-energy Latin and international beats. This class combines the joy of dancing with fitness that boosts our energy and overall well-being. Regardless of your age or fitness level, Zumba invites you to move, groove, and have a blast while improving your cardiovascular health, flexibility, and coordination. Step into the rhythm, let the music guide you, as you embark on an energizing Zumba journey.
Classes will take place in an air-conditioned gallery space at the Museum, and will occur on the follow dates:
Monday, October 16th 
Monday, October 23rd 
Monday, October 30th 
Monday, November 6th 
Monday, November 20th 
Please bring water and sturdy shoes to dance in.
Cost: $3/person
Time: 12:00 – 12:45PM
For: All ages!
No pre-registration is required. 
Presenter Bio:
Tricia Cammaart is an experienced and dedicated Registered Holistic Nutrition Practitioner (RHNP) and proud co-owner of Zeal Holistic Health, established in 2012. With over 20 years of expertise in empowering women to achieve optimal health, her journey began as a passionate group fitness instructor, teaching invigorating classes such as Zumba and Yoga. Now, as a trusted holistic nutrition expert, her focus lies in providing comprehensive and personalized solutions to support women on their wellness journey.
For more information: https://countymuseum.ca/event/museum-zumba/ 
Event Contact:
Alannah MacGregor
Programs & Exhibition Coordinator, Museum of Lennox & Addington
amacgregor@lennox-addington.on.ca
613.354.3027
 
Location
Museum of Lennox & Addington, 97 Thomas St. East, Napanee, ON K7R 4B9