Thursday Tour
Date:
Thursday, October 25, 2018 -

12:15pm

to

1:00pm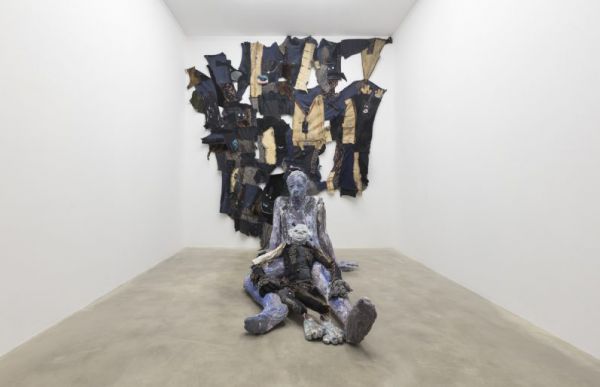 These free, lunch-hour exhibition tours are available on a drop-in basis.  A friendly and informed community docent will meet you in the Atrium before the guided gallery tour. The is tour is of exhibition, Tau Lewis: when you last found me here.

The Agnes is delighted to present Tau Lewis's first institutional solo exhibition in Canada. Visionary speculation lends her transmutation of salvaged materials a raw and moving imaginary in this recent body of sculptural portraits and narrative fabric patchworks. Her figures are poignantly "bulletproof" characters born from alternate histories that join black bodies and nature. Exploring the magnitudes of unbelonging — complexly disquieting and liberating — these are vessels for ancestral communication. They disturb questions about the edifice of race and privilege as, charged with secret sacrificial belongings, they make their way to a space of joy and magic.
A 13-week artist's residency project is a rich platform for Tau Lewis's artmaking process that connects her ideas and work with Kingston's public and academic audiences. The residency is supported by the Stonecroft Foundation for the Arts, the Queen's University Department of Gender Studies through the Queen's Visiting Artist in-Residence Arts Fund, and the BFA (Visual Art) Program.
For artist biography, please click here.
[Pictured Above: Tau Lewis, Installation view of making it work to be together while we can, 2018. Jeffrey Stark, New York]
Agnes Etherington Art Centre | Queen's University | 36 University Ave, Kingston, ON | 613.533.2190 | aeac@queensu.ca
Location:
Agnes Etherington Art Centre