Date
17 October, 2023 at 7:00pm - 9:00pm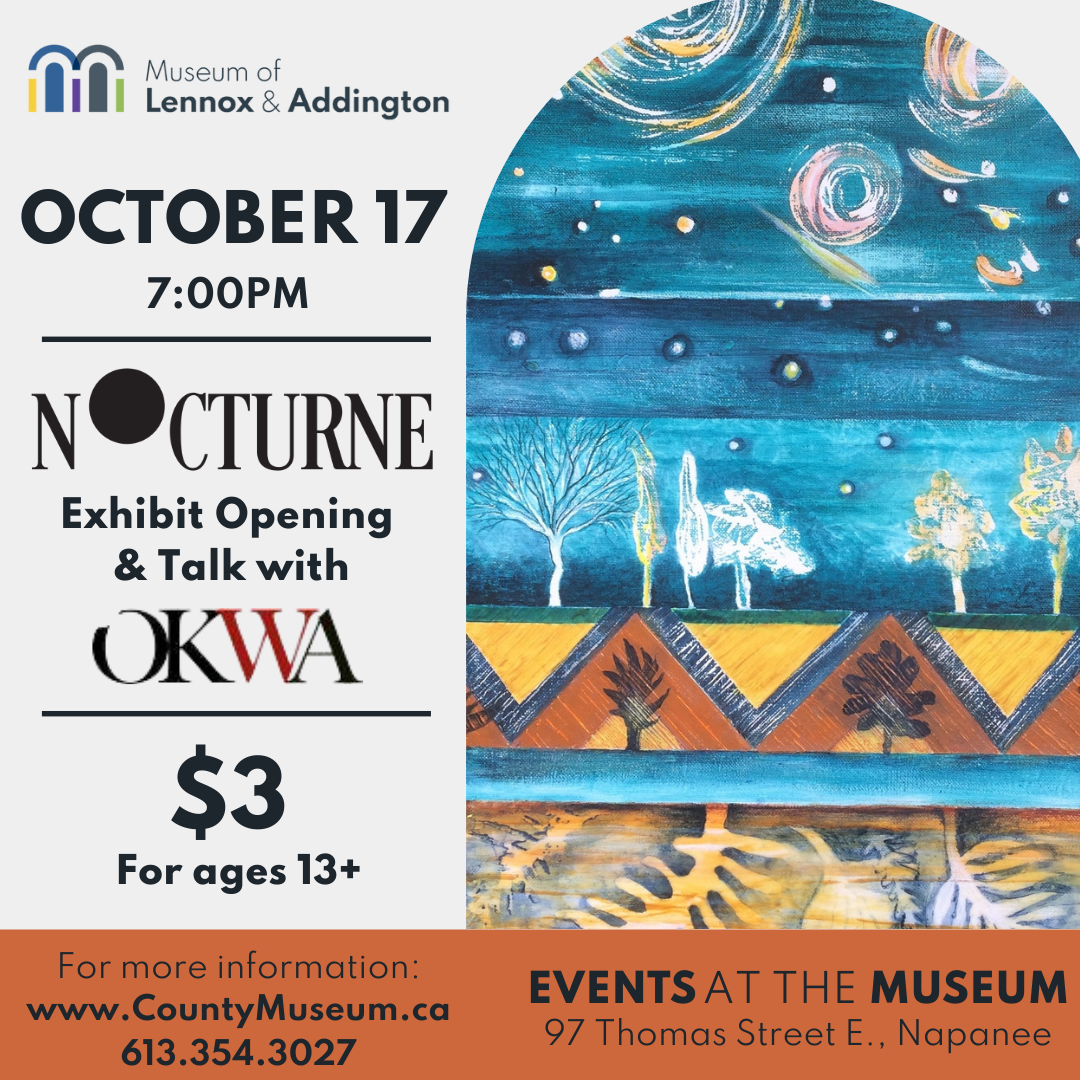 Join the Museum of Lennox & Addington in celebrating the opening of Nocturne: Into the Night Together, where  artists from the Organization of Kingston Women Artists will present new artwork created as a response to nocturnal themes. This artists' talk evening will surely inspire you to imagine your own voyage into the night.
Each of the artists with distinct backgrounds in painting, printmaking, mixed media and sculpting, will present their works and discuss their art created as a response to the nocturnal theme.
You will hear how these artists felt as they worked their way through the dark to find a way to create art to express what nocturne meant to them personally.  You may also learn how some of these women artists felt entirely comfortable in the nocturnal dreamworld.
Each will offer insights into their professional art practices with mentions of their diverse media, materials and techniques including printmaking, illuminated mixed media, sculpture, and painting.
There will be a Q and A session and an opportunity to meet the artists individually.
The artists want you to know that, like space travel, making art requires courage when you do not know where you are heading, going into Nocturne and initially not seeing in the dark. Come explore the night! 
Time: 7:00PM (doors to open at 6:30PM)
Cost: $3/person
Demographic: Ages 13+
For more: https://countymuseum.ca/event/nocturne-exhibit-opening/ 
About OKWA:
OKWA (Organization of Kingston Women Artists) has been providing a community of support for professional women artists in the region since 1989. With annual exhibitions, a series of artist's talks and other shared events, it makes a place where the solitary studio artist can make connections and understand that they are not isolated and alone. Today the membership exceeds 60 members working in a wide range of media.
Event Contact:
Alannah MacGregor
Programs & Exhibition Coordinator, Museum of Lennox & Addington
amacgregor@lennox-addington.on.ca
613.354.3027