Date
7 October, 2023 at 2:00pm - 3:00pm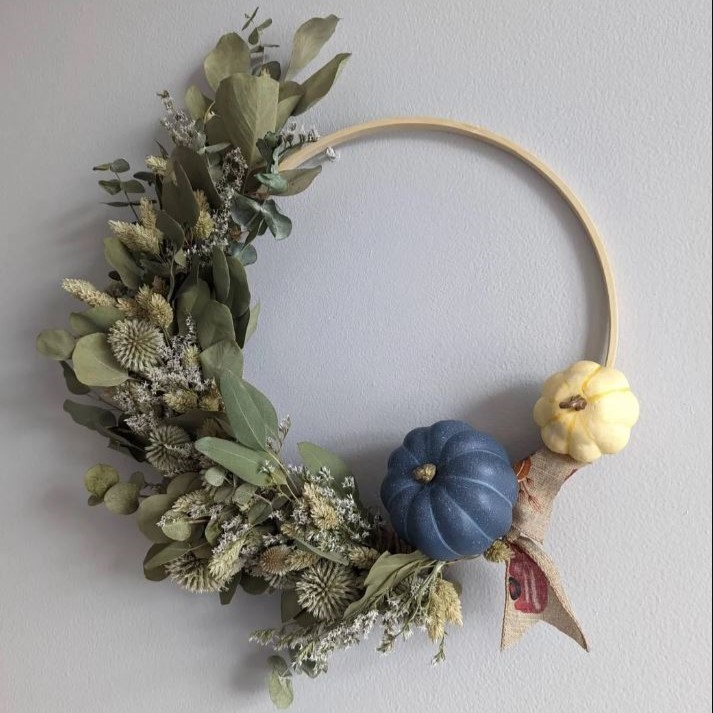 Learn how to make a mini dried flower wreath with fun fall features!
This workshop is an intermediate introduction to wreath-making. An explanation will be given about the types of tools, bases and twine needed for wreath-making. An introduction to the type of flowers and products used in wreath-making will be given, along with an explanation of the process involved in drying and choosing flowers. The wreath involved will be a mini dried flower wreath that participants can customize with ribbon and fall picks.
Cost: FREE
Time: 2:00pm
Ages: 12+
No pre-registration is required. 
Presenter Bio – Aoife Donnan (EE-fa):
Hi! I'm Aoife (EE-fa) and run a small business out of my home called the Irish Flower Girl. I moved to Canada in 2021 and have moved from Kingston to Toronto in 2022. I began my business in Ireland making Christmas wreaths, but then discovered the art of making dried flower wreaths. The best thing about dried flower wreaths is their sustainability. Dried flower wreaths preserve the stunning color of flowers, but last far longer than any fresh flower bouquet or wreaths (sometimes years). I purchase my flowers from a wholesaler in Mississauga, but I hope to be able to grow my own one day. Currently I am selling on Etsy and Instagram.
Image: Fall Eucalyptus Wreath on Etsy
For more: https://countymuseum.ca/event/teen-wreath-making/ 
Event Contact: 
Alannah MacGregor
Programs & Exhibition Coordinator, Museum of Lennox & Addington
amacgregor@lennox-addington.on.ca
613-354-3027
Location
Museum of Lennox & Addington, 97 Thomas St. East, Napanee, ON K7R 4B9