Historic Hockey Game
Date:
Saturday, February 10, 2018 - 2:00pm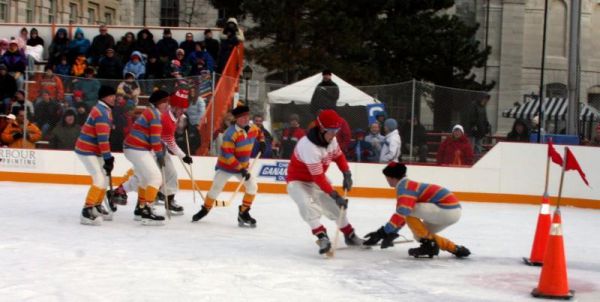 There's no forward passing. The goalie can't go down on his knees. The referee yells "face" to begin play. There's even a square puck!
You're invited to join us for a history lesson on ice this Saturday when the Historic Hockey Series celebrates its 50th year. It all starts at 2 pm at Springer Market Square.  
See hockey as it was played in the 1800's, featuring Queen's, RMC and the 2nd Regiment, Royal Canadian Horse Artillery, Petawawa.  This event celebrates how the game was played in its formative years. 
Best of all it's FREE. Bring the whole family and enjoy the action. 
Be sure to visit the Original Hockey Hall of Fame tent to see merchandise from the e-store and take home a souvenir square puck. Learn more about Historic Hockey and see some photos from decades past.
We hope to see you there. Keep your stick on the ice!