Any Saint: Emily Pelstring
Date:
Saturday, April 27, 2019 - 1:00pm

to

Monday, August 5, 2019 - 4:30pm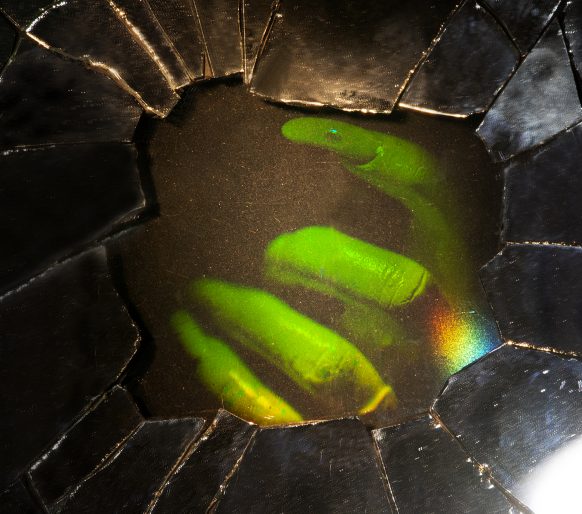 Davies Foundation Gallery
27 April–5 August 2019
Season Launch Reception
Friday 3 May 2019
Summoned from slow shimmering animations, mystic beings emerge amid other barely-restrained spirits. This solo exhibition by Emily Pelstring is a space for immersive, transformative viewing made with outmoded imaging technologies and simple special effects. With Any Saint, Pelstring refines her approach to DIY aesthetics, performance experimentation and humour to evoke mythic narratives, dispersing them across installation, animation and hologram.
Curated by Sunny Kerr
Emily Pelstring is a media artist whose work spans installation, performance, animation, and video. Emily holds a BFA from Rhode Island School of Design in Film/Animation/Video, and an MFA from Concordia University. Her work has been shown internationally in galleries, film festivals and music festivals, including Transmediale Berlin, Seoul International New Media Festival, L'Alternativa Independent Film Festival Barcelona, NeXT International Film Festival Bucharest, Antimatter Media Art Festival, Ann Arbor Film Festival, Pop Montreal, the PHI Centre, Khyber Centre for the Arts, FoFA Gallery, Powerhouse Galerie La Centrale, and the Judith and Norman Alix Art Gallery. Her work has been supported by residencies at the Experimental TV Centre, Studio XX, and SAW Video Association. She has done visual commissions for musicians including Aids Wolf, AroarA, Julia Holter, Slim Twig, U.S. Girls, and a Prism Prize nominated video for Yamantaka // Sonic Titan. Her ongoing collaborative projects are Inflatable Deities (with Jessica Mensch) and The Powers (with Jessica Mensch and Katherine Kline). She has taught Media Production at Concordia University and is now teaching in the Department of Film and Media at Queen's University.
Exhibition webpage: https://agnes.queensu.ca/exhibition/any-saint-emily-pelstring/
Location:
Agnes Etherington Art Centre. 36 University Avenue, Kingston ON