Against Hungry Listening
Date:
Thursday, February 14, 2019 -

12:30pm

to

2:30pm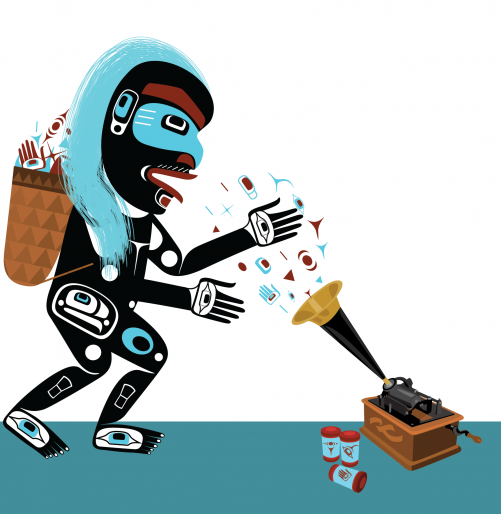 Image: Bracken Hanuse Corlett (Wuikinuxv/Klahoose), "Atsi, gathering songs from the museum to return to our families." Cover image for Hungry Listening (forthcoming 2019) by Dylan Robinson.
Atrium
1, 7, 14, 28 February 2019
A listening series that challenges the ubiquitous consumption of music, including notable composers, musicians, scholars and artists discussing de-colonial, queer, feminist, black and Indigenous-specific forms of listening. This is a free and evolving event series—presenters will be playing a selection of musical pieces for audiences, followed by critical conversation and open dialogue. All are welcome and classes are heavily encouraged to attend. No registration required. Please get in touch with Associate Curator, Academic Outreach for more information: academicoutreach@queensu.ca
Friday 1 February 2019, 1–3pm
Layli Long Solider and Tanya Lukin Linklater
Tanya Lukin Linklater's performances in museums, videos and installations have been exhibited in Canada, the United States and abroad. Her work centres Indigenous knowledge production in and through orality, conversation and embodied practices, including dance. She considers That which sustains us a conceptual and affective line within her work, alongside histories and structural violences that Indigenous peoples continue to respond to. In 2017, as a member of Wood Land School, she participated in Under the Mango Tree – Sites of Learning, a gathering for documenta14 in Athens and Kassel. In 2018 Lukin Linklater will present a commissioned performance for Art for a New Understanding: Native Voices, 1950s to Now at Crystal Bridges Museum of American Art. Lukin Linklater was the inaugural recipient of the Wanda Koop Research Fund administered by Canadian Art. She originates from the Native Villages of Afognak and Port Lions in Alaska and is based in Northern Ontario.
Thursday 7 February, 11:30am–1:30pm
Ashon Crawley, Katherine McKittrick and Cecily Nicholson
Thursday 14 February, 12:30–2:30pm
Peter Morin, Camille Georgeson-Usher and Syrus Marcus Ware, Listening & Love
Peter Morin is a Tahltan Nation artist and curator. Throughout his artistic practice, Morin investigates the impact zones that occur when Indigenous practices collide with Western-settler colonialism. Morin's artworks are shaped, and reshaped, by Tahltan epistemological production and often takes the form of performance interventions. In addition to his exhibition history, Morin has curated exhibition for the Museum of Anthropology, Western Front, Bill Reid Gallery, and Burnaby Art Gallery. In 2016, Morin was received the Hnatyshyn Foundation Award outstanding achievements by a Canadian Mid-Career Artist. Morin holds a tenured appointment in the Faculty of Arts at the Ontario College of Art and Design University in Toronto.
Camille Georgeson-Usher is a Skwxwú7mesh / Hul'q'umi'num / Sahtu Dene/Scottish scholar, artist, and writer from Galiano Island, British Columbia which is of the Pune'laxutth' (Penelakut) Nation. Usher completed her MA in Art History at Concordia University. Her thesis, "more than just flesh: the arts as resistance and sexual empowerment," focused on how the arts may be used as a tool to engage Indigenous youth in discussions of health and sexuality, drawing predominantly on the work of Qaggiavuut!, an Arctic performing arts group, for her case study. She is currently a PhD student in the Cultural Studies department at Queen's University and has been awarded the Joseph-Armand Bombardier Canada Graduate Scholarships-Doctoral for her research-creation work around urban Indigenous experiences within Indigenous arts collectives and other groups activating public spaces through gestures both little and big. She has been awarded the 2018 Canadian Art Writing Prize and has been lucky to develop her installation-based artistic practice through acts of love and care in collaboration with filmmaker Asinnajaq.
Thursday 28 February, 12:30–2:30pm
Robin James
Location:
Agnes Etherington Art Centre. 36 University Avenue, Kingston ON