Tom Thomson? The Art of Authentication at Agnes Etherington Art Centre
Date:
Saturday, February 26, 2022 - 1:00pm

to

Sunday, May 29, 2022 - 5:00pm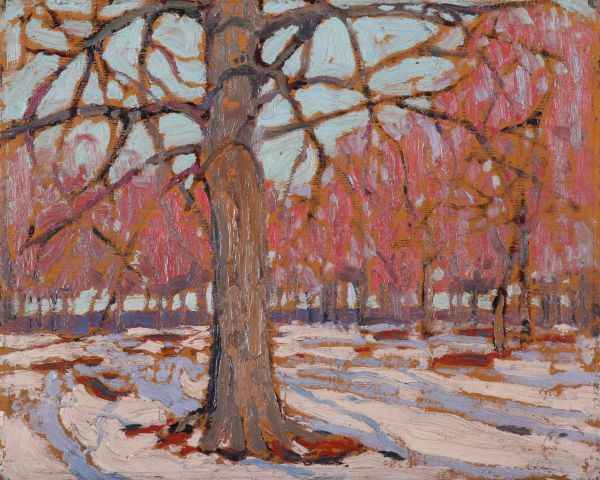 Tom Thomson? The Art of Authentication
26 February–29 May 2022
This exhibition explores how artworks are authenticated. During his brief six-year career as a painter, Tom Thomson (1877–1917) produced hundreds of oil sketches and a handful of canvases that responded to the mid-northern Ontario landscape. In the century following his death, he has been the subject of national myth-making and critical myth-dismantling. Perhaps one of the most recognized historical painters in Canada, he is also one of the most copied.
Tom Thomson? The Art of Authentication is a kind of laboratory, organized around five themes or areas of investigation: signature, subject matter, style, materials and provenance. Each helps to guide the authentication process, providing clues but not necessarily conclusions. Bringing together forty known Thomson paintings, along with possible panels and known fakes, the exhibition makes public the behind-the-scenes work of authentication.
The exhibition is accompanied by the documentary film Finding Authenticity (2021), directed by Tyler Tekatch, and featuring artists Nathan Carson, Chaka Chikodzi, Dorian FitzGerald, Suzy Lake, Deirdre Logue and Allyson Mitchell, Anong Migwans Beam, Shelley Niro and Tim Whiten. Finding Authenticity is created as a contemporary conversation about authentication. Using the same themes explored in Tom Thomson? The Art of Authentication, these nine artists reflect, respond and question notions of authenticity in artistic practice today.
Tom Thomson? The Art of Authentication is organized and circulated by the Agnes Etherington Art Centre and the Art Gallery of Hamilton, in partnership with the Canadian Conservation Institute. This exhibition is generously supported by the Museums Assistance Program, Government of Canada, and the Janet Braide Memorial Fund, Queen's University.
Find more: https://agnes.queensu.ca/exhibition/tom-thomson-the-art-of-authentication/
Location:
Agnes Etherington Art Centre