The Dark Room at Agnes Etherington Art Centre
Date:
Saturday, April 9, 2022 - 1:00pm

to

Sunday, July 10, 2022 - 5:00pm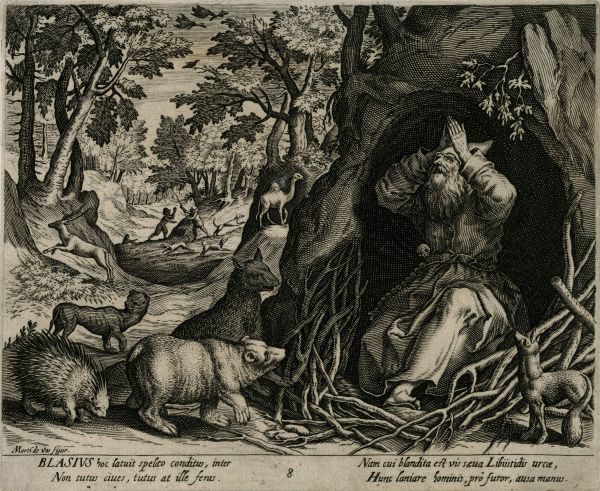 9 April–10 July 2022

Portrayed in simple dwellings, cave-like crevices, inhabiting trees and pondering waters, the main protagonists in this exhibition are hermits based on designs by Flemish artist Maerten de Vos (1532-1603). They were created to invite learned male urbanites to imagine themselves ensconced within such remote and secluded places. Mostly representing early Christian saints whose renunciation of bodily comfort served as examples for spiritual emulation, these intricate engravings functioned as aids in the construction of interior spaces for meditative and imaginative retreat.

Along with the hermits, these private worlds are populated by a variety of fantastical creatures that alternatively represent the boundless nature of creation and relentless pull of temptation. While such presences may denote ingrained patterns of shame surrounding sexual desire, the viewer is shamelessly implicated in these intimate scenes of withdrawal—winding landscapes and distant urban vistas serving as further reminders of what one is encouraged to escape.

Acknowledging the powerful potential of mental refuge that is inherent to viewing these prints and with a curious connection to the work of contemporary artist Chris Curreri, The Dark Room proposes a collective re-imagining of these prints to accommodate tangible but unwritten histories, vulnerable affections and shared artistic futurities.
Find more: https://agnes.queensu.ca/exhibition/the-dark-room/
Generously supported by the Bader Legacy Fund.
Location:
Agnes Etherington Art Centre