Liquid Glass Feather: A Pouring Medium Workshop
Date:
Monday, August 19, 2019 - 10:30am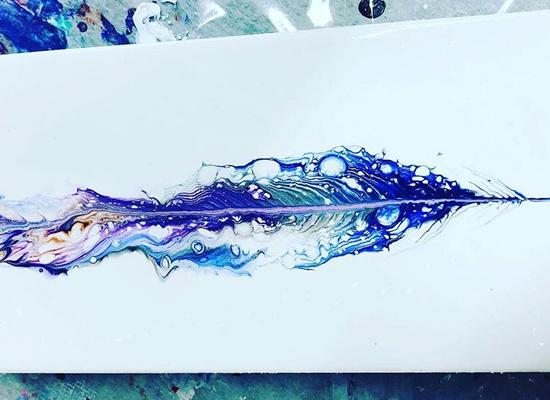 It's a Special Event day at the L&A County Museum in Napanee! On August 19th, Glocca Morra will be hosting a series of Liquid Glass Pouring Workshops at the Museum. Come try this mesmerizing technique using Liquid Glass, an acrylic pouring medium, and create your own beautiful feather 6"x12" painting. Children will also have an opportunity to create a collection of three magnets using the pouring medium. No experience is necessary.

Liquid Glass has a mind of its own; it is a beautiful pouring medium that does what it wants to do with a little help from you. Which can be quite freeing as there is no skill needed to begin this journey. *Liquid Glass is the name of this acrylic Pouring Medium, made by TriArt here in Kingston. It is not actually glass, it does dry so clear and shiny it looks like glass.  
*Your creations will need to cure for 24 hours at the Museum before they can be picked up*
Workshop costs are $45 (plus HST) for the adult classes and $15 (plus HST) for the children's classes. Preregistration is required for this workshop through Eventbrite.
Childrens Magnets
https://www.eventbrite.ca/e/childrens-liquid-glass-magnets-a-pouring-medium-workshop-in-napanee-tickets-61238353564
Adult Feather
https://www.eventbrite.ca/e/liquid-glass-feather-a-pouring-medium-workshop-in-napanee-tickets-61238845034
Location:
97 Thomas Street East, Napanee, ON