Drift: Art & Dark Matter
Date:
Saturday, January 9, 2021 - 1:00pm

to

Sunday, April 11, 2021 - 5:00pm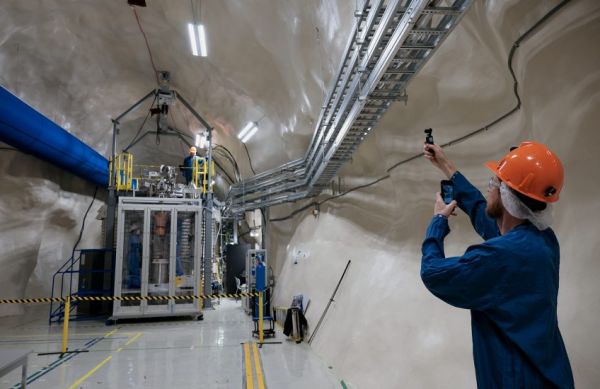 Are we open to what the universe is telling us?
A yet-imperceptible matter suffuses and adheres everything. Without the gravity of this "dark" matter, galaxies would fly apart, scientists tell us. Observational data in astroparticle physics indicate that dark matter exists, but so far it has eluded direct detection. In this exhibition, works in sculpture, installation, textile and video by Nadia Lichtig, Josèfa Ntjam, Anne Riley and Jol Thoms consider and adjoin different forms of knowledge and experiment with the contours of the unknown universe. Through openness to transdisciplinary exchange, the artists have created artworks that are multisensory agents between scientific ideas of dark matter and diverse searches for an experience of dark matter.
Drift: Art and Dark Matter is a residency and exhibition project generated by Agnes Etherington Art Centre, the Arthur B. McDonald Canadian Astroparticle Physics Research Institute and SNOLAB. Four artists of national and international stature were invited to make new work while engaging with physicists, chemists and engineers contributing to the search for dark matter at SNOLAB's underground facility in Sudbury, two kilometres below the surface of the Earth.
The title "Drift" emerged from the mining term for a horizontal tunnel, in this case the hot underground passageway in the copper and nickel mine stretching between the elevator and the clean lab spaces of SNOLAB. The project thereby begins from a consideration of the forms and energies that connect research to labour, landscapes, cultures and histories.

Curated by Sunny Kerr, Curator of Contemporary Art
Read more at agnes.queensu.ca
Location:
Agnes Etherington Art Centre