Chris Curreri: A Surrogate, A Proxy, A Stand-In at Agnes Etherington Art Centre
Date:
Saturday, February 26, 2022 - 1:00pm

to

Sunday, May 29, 2022 - 5:00pm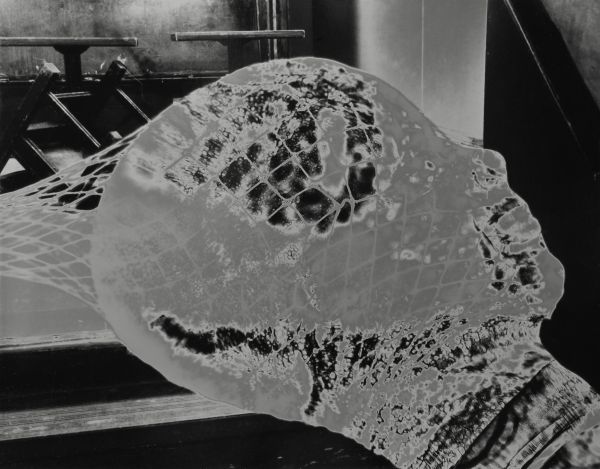 26 February–29 May 2022
Chris Curreri is a Canadian artist working across film, photography and sculpture. His work lingers in liminal states, capturing processes and focusing in on the moments before identity is fixed or concepts come into light as fully intelligible, and thus taken as normative. His production is premised on the idea that things in the world are not defined by essential properties but constituted through messy exchanges with other things—all folded together in a fabric of relations that erode simple dichotomies of tenderness/violence, beauty/abjection, self/other. Curreri asks: To what extent do we open ourselves up to, or close ourselves off from, such possible penetrations? This exhibition is an allegory of these issues as if they have emerged between the closure of the aperture and the exposure of the photographic image.
A Surrogate, A Proxy, A Stand-In connects, through the artist's own history, the experimentation of the dark room to the nighttime freedom of the gay bar. The latter is represented by the solarized photographs of the interior of the defunct Beaver, Toronto's legendary Queen Street queer bar. Thus, the exhibition places itself on a continuum of intimacy and exchange, of haunting and helping, with Canadian Queer art history—Rodney Werden, General Idea, Will Munro and their contemporary avatars: Luis Jacob, partnering in one of the works, and Curreri himself.
Find more: https://agnes.queensu.ca/exhibition/chris-curreri-a-surrogate-a-proxy-a-stand-in/
This exhibition is supported by the Canada Council for the Arts, the Ontario Arts Council, an agency of the Government of Ontario, and the Toronto Arts Council. Special thank you to David Clare for his generous support of Curreri's upcoming Agnes published monograph and for facilitating the recent acquisitions of the artist's work for Agnes's permanent collection.
Location:
Agnes Etherington Art Centre