Crinolines, Carnaby St. & Chaos: Fashions of the 1860s, 1960s & Now
Date:
Tuesday, June 20, 2017 - 7:00pm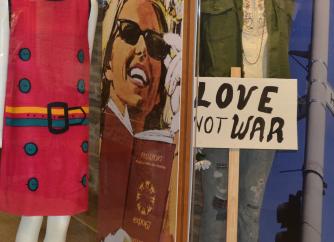 'Tuesday Night at the Museum' returns to the Lennox & Addington County Museum & Archives in Napanee on June 20th at 7pm. Hear from Diane Gallinger, guest curator of "Crinolines and Confederation" exhibit currently on display at the Museum & Archives.
In honour of Canada 150, Diane explores the weird and wonderful world of fashions worn during milestone decades in Canada's history. What could styles from the times of Queen Victoria, Jimi Hendrix and Melania Trump possibly have in common? All are products of decades marked by aggressive nationalism, political ambition, social progress and popular protest. In fashion, sometimes the more things change, the more they stay the same, so whether your style is Windsor Castle, Woodstock or Trump's Washington, this talk has something for you.
Tickets to Tuesday Night at the Museum are only $3 each and are available at the door. Tuesday Night at the Museum is a monthly programming feature at the L&A County Museum & Archives, located at 97 Thomas Street East in Napanee. For more information, please call 613-354-3027